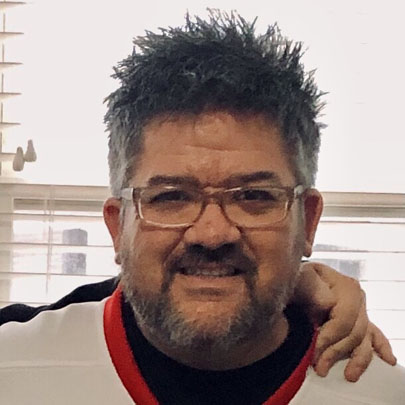 For veteran DJ Michael "The Maniac" Goad, playing music has been a part of his life for as long as he can remember.
His love for music began as early as age seven when he first began to listen to his uncle's KISS 8-track tapes. His love of hard rock didn't end there, it just expanded. He learned guitar at 11 and mastered "Shout at the Devil." In his teen years, he learned various instruments including, bass, saxophone, and even the tuba! Yet, marching band wasn't enough and he played in his own band (​2 Minute Warning) ​in Evansville, IN all throughout high school. In college, he worked on the USI radio station, and then in local radio after graduation. Finally, he started his mobile DJ company, ​On The Mike Productions,​ but family life began, and so did his career teaching elementary school.
Now living in urban Indianapolis, teaching is a passion, but music has never been far behind. Even his classroom is decorated with posters and pictures of musicians from Aretha Franklin to Jimi Hendrix as he enjoys enhancing his curriculum with lessons on his students' musical heritage.
His own influences span from musical icons as Motley Crue, Guns 'N Roses, Queensryche, Winger, Slaughter, and Def Leppard. Yet, his appreciation doesn't stop with metal. He also loves Earth, Wind & Fire, Chicago, The Beatles, Beastie Boys, Prince, and Janet Jackson, cementing his sound as one that is unique.